a dream to become a nurse
Kadiatu has been part of our projects since the age of 12. Back then she lived on a rubbish tip, right now life is looking so much better. With her exams behind her she's now set on becoming a Nurse. This appeal is looking to raise funds to cover the fees for her first year at Diploma level. Accessing these courses really is the last step towards becoming someone who can stand independently.
By educating a child, we not only help an individual but families, communities and generations to come.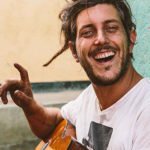 To be able to reach out to a child who has no one, and completely transform their life is an amazing and unique experience and one that I'll never tire of.