From Dropping out of school to Paediatric Surgeon
When we first met Emmy in 2010 he had lost both of his parents. At just 10 years of age, he found himself with no support network, was struggling for food and the future was looking very bleak. At first, he would collect timber from the forest to pay for his fees, but when they increased, he had no choice but to drop out of school. The idea of returning to a primary classroom was an almost impossible distant dream. 
We initially learned of Emmy's plight during endless days of interviewing hundreds of vulnerable children in remote villages high up in the Rwenzori Mountains. Emmy was invited into our Kasese Children's Village, a safe environment where kids can thrive and shine. Soon he was back in school and making new friends, slowly putting the struggles of his past behind him. 
Although he had missed several years of school, he was quick to catch up and was soon acing his exams. As well as being a naturally bright kid he was diligent with his studies and worked hard, and in not much time at all he was gaining the grades to be accepted into university to study Medicine – And that's where you'll find him! Emmy is now 24 and based in Uganda's capital city Kampala and for the past year has been on placement at a hospital in Uganda's northern city of Lira.   
Emmy has already performed surgeries, delivered countless babies, and is hoping to specialise as a Paediatric Surgeon.  
It's amazing to think of all those individuals that Emmy is now empowered to help and really underlines what's truly possible with a little support. What a journey! 
 
By educating a child, we not only help an individual but families, communities and generations to come.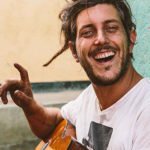 To be able to reach out to a child who has no one and completely transform their life is an amazing and unique experience and one that I'll never tire of.