boisterous teenager to inspiring leader
Alusine joined our projects in 2007 as a slightly boisterous teenager who needed support. Having been orphaned years earlier schooling had ended, a bleak future lay ahead for this boy who clearly wanted to achieve things.
I Am Someone helped Alusine complete his studies, he then attempted to find a job in the capital Freetown. Frustrated at not finding work he came back to us with a plea to help him become a Social Worker. We found a course and 3 years later we have one of the most passionate, inspiring, and dedicated people you could find working alongside us. He's now helping coordinate and manage our remote programs in communities across Sierra Leone and is committed to a future of helping lift more children out of poverty.
By educating a child, we not only help an individual but families, communities and generations to come.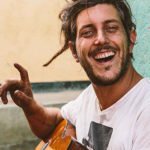 To be able to reach out to a child who has no one and completely transform their life is an amazing and unique experience and one that I'll never tire of.