We are witnessing incredible change in the lives of the thousands of children we support, with outcomes surpassing even our wildest dreams. 
FROM dropping out of school TO STUDYING LAW
Meet Davis! Back when he was 12, we found him living a hard life, with no permanent home. Having lost his parents at a young age, every day was a lonely struggle of survival.
Since our first meeting, Davis has not looked back. He aced his early years back at school, catching up for lost learning time, and now finds himself sitting in lecture rooms studying Law at Kampala University. Through his hard work and our little helping hand, his dream of becoming a lawyer is very close to being realised …
now studying medical science
Meeting Emmanuel back in 2010, it was immediately apparent that here was a child in need of help and a way out of his deplorable situation. Orphaned at the age of seven, he found himself out of school, hungry and forced to work to survive. His was the life that no 12 year-old child should have. Emmy's journey has taken him further than anyone could have dreamed at that time and reinforces how important it is to give a child a chance. Now, in his second year of a medical degree, Emmanuel has very real dreams of becoming a surgeon. Awe-inspiring! 
PROVIDING AN EDUCATION AND A LIFE
Kadiatu was given the opportunity to visit one of our remote projects in Sierra Leone and spent a long day with the local team, traveling bumpy roads in a battered local taxi.
Our conversation led to her disclosing that she was waiting on exam results; hoping that she would get the grades to head off to university to study agriculture. My next question was "Kadiatu, where did I meet you?" She replied, "You found me on the rubbish tip where I was living." It had been 10 years and the struggles of those earlier years were long gone. It seemed incomprehensible that she had come so far. I even had a quiet tear of joy.
By educating a child, we not only help an individual but families, communities and generations to come.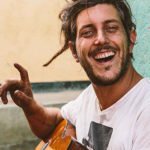 To be able to reach out to a child who has no one and completely transform their life is an amazing and unique experience and one that I'll never tire of.