charity delivered differently
We're proud to say we're a little bit different!
In 2005, the idea of I AM SOMEONE (previously OrphFund) was born.  
Our founder, Steve, simply wanted to create an organisation that gets donors' money right to where it's most effective. With years of experience working with the bigger, well-known NGOs, he wanted to offer those disillusioned with giving a chance to simply donate and know it would make an impact. 
I AM SOMEONE is built on the foundation that giving should be a celebrated, enriching experience, with positive and lasting results.  Since our inception, our projects have grown out of the most modest of budgets, where each and every dollar given is spent as if it were our last.
Our ever-growing team of committed and passionate volunteers help ensure that, as we grow, our philosophy remains the same. Our charity model is one of the most effective ways of combating poverty and creating change.
By educating a child, we not only help an individual but families, communities and generations to come.
creating a positive future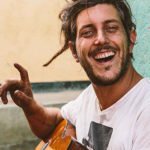 To be able to reach out to a child who has no one, and completely transform their life is an amazing and unique experience and one that I'll never tire of.